When selecting a pond liner there's 4 main choices. PVC, HDPE, EPDM and Rigid liners.
All should be fish safe and UV stabilised. PVC (Polymerizing-Vinyl-Chloride) and HDPE ( High-Density polyethylene) are by far the cheapest.
While EPDM (Ethylene-Propylene-Diene-Monomer) is easily the toughest and best pond liner available.
PVC and HDPE are cheaper and as such have some limitations.
Rigid liners are strong and durable, but are not suitable for large ponds.
So let's talk a little about each one and how much you can expect to pay.
EPDM
Epdm is a rubber liner. It's incredibly tough and durable! Being rubber it is able to expand up to 3 times, this makes it far more puncture resistant and more kid and animal proof than any other liner.
Most epdm manufacturers offer a 20year guarantee with some even offering a life time warranty.
Epdm is UV stabilised and fish and plant safe.
Most is not of food safe quality and therefore unlike Hdpe is not recommended for aquaponic systems. Other than that it can be used in all ornamental pond applications.
It's available in different thicknesses which will effect the price you pay. The thicker the liner the more you pay.
Epdm liner is very easy to join even for a beginner. It's so easy it can be done on site.
The easy joining ability and durability make it suitable for ponds on a large scale.
Very easy to work with allowing for weird and irregular shaped ponds.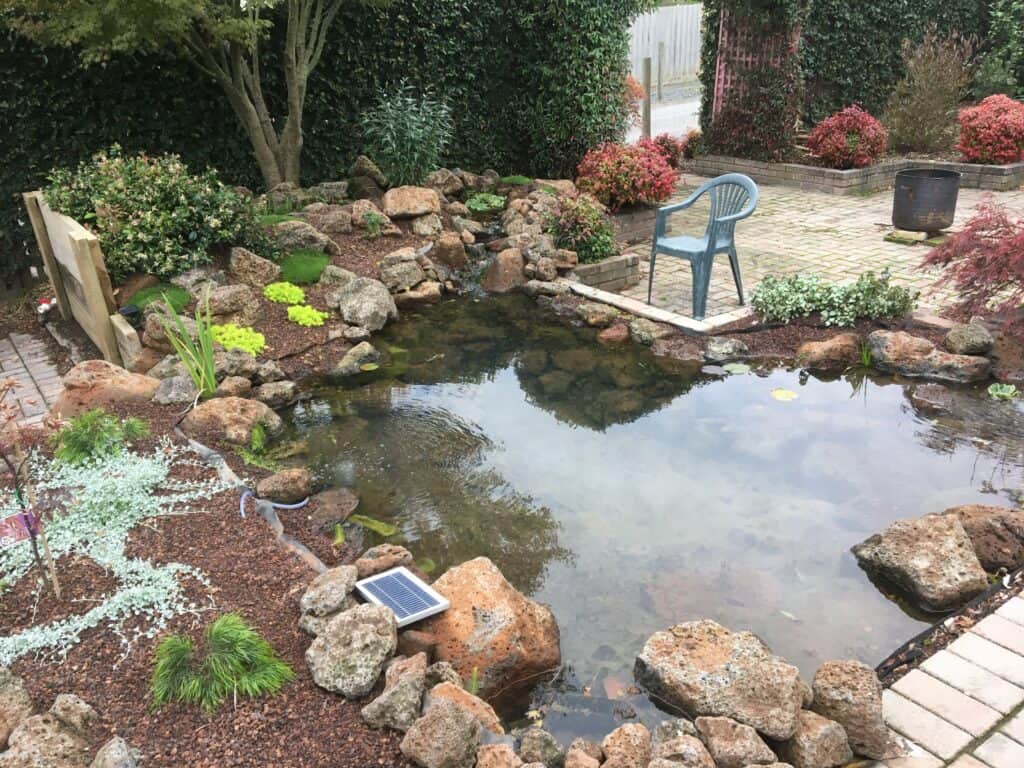 Expect to pay between $20-25 per square metre for good quality epdm rubber liner.
If a puncture or tear should occur. It's very easy to fix with a simple puncture repair kit.
Use it for any sized pond from tiny 200L ponds to massive swim ponds and commercial projects.
Excellent for high traffic ponds (kids and critters entering and exiting the pond).
Perfect for ponds that need to blend into the landscape and appear natural (large rocks can be positioned on the liner).
Incredibly versatile irregular shaped, streams, waterfalls, pond less applications, rain water harvesting (for garden use) and swimming ponds.
The best in terms of longevity and toughness.
If cost is a factor and the pond is small by all means choose PVC or HDPE. For aquaponic applications use Hdpe.
But for any other applications choose EPDM every time! 
PVC
PVC pond liner has been in use for decades. It's a very economical pond liner. Most well reputed brands that sell it offer a 10 year guarantee. 
A local nursery I frequent has a pvc lined fish pond that is 15 years old and still doesn't leak. It's under a large Lilly pilly tree.
The tree shades the pond and protects the liner from uv rays, but the fact that the roots haven't penetrated the liner I find quite astonishing.
PVC is a good cheap option for small fish ponds. Even though the above example shows how durable it can be.
This pond liner isn't suitable in a high traffic area. PVC is slightly flexible though not anywhere near as flexible as epdm rubber.
Ponds in high traffic areas with kids and animals entering the pond should use epdm liner.
Even constructed streams and waterfalls that are going to have large rocks positioned on or around the liner shouldn't use PVC.
Use it for small features up to 1000 litres.
Fish only ponds with no large rocks.
Lining a small patio feature.
Good for small irregular shaped ponds.
PVC is nice and cheap and should be available for around $5-10 per square metre.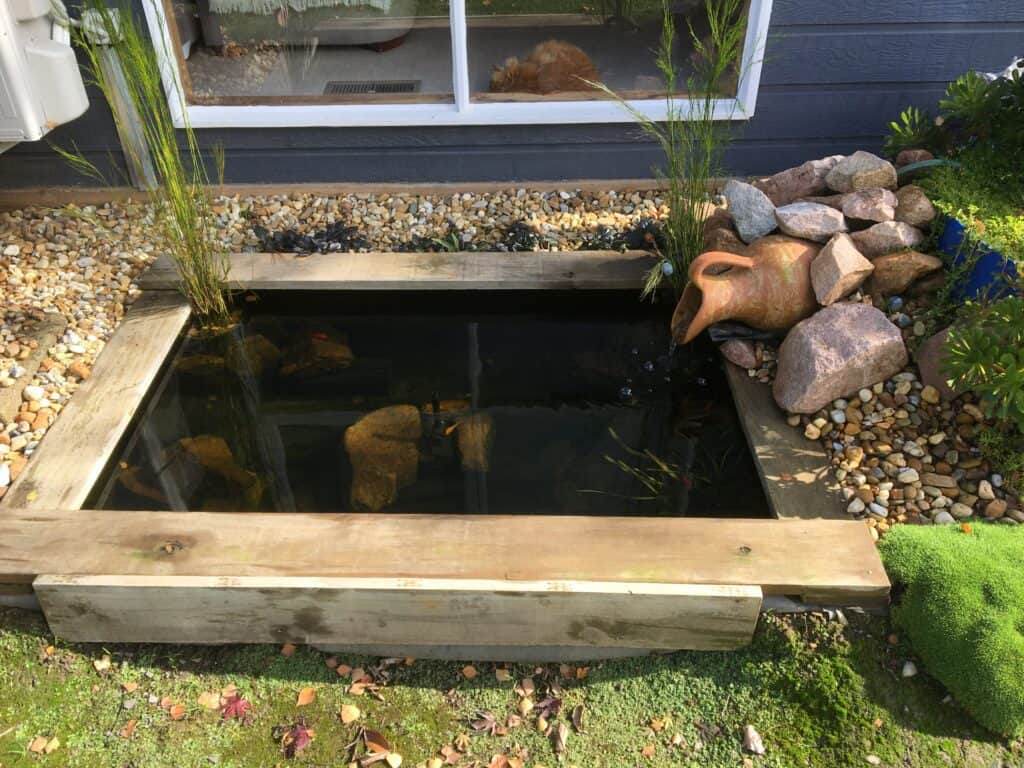 HDPE
Hdpe is incredibly strong and durable for its thickness. It's very cheap and lasts a long time. The guarantee on most brands in 20 years.
It's been used for a long time in the mining and landfill industries. There are various strengths available depending on your project.
I used Hdpe in my constructed grey water wetland. So far it's been in service for 4 years and I haven't had any issues.
Hdpe isn't flexible so careful preparation should be used before installation.
Use soft clay or sand to line the excavation before laying the liner.
Hdpe is a food safe material. This means it can be safely used in aquaponic grow beds and fish tanks. It's also UV stabilised and fish and plant safe.
It doesn't have any flexibility it's completely ridged. Like pvc I don't use it in high traffic areas or places where I'm placing large heavy rocks.
To be joined it needs heat treatment. For this reason always ask the supplier to do any joining for you.
Use it for small to medium formal ponds up to 3000 litres. (Because it's so ridged it's not well suited to irregular shaped ponds.)
Great for use in aquaponic applications as it's food safe.
Can be used to line a reservoir in a pond-less fountain or stream.
I used it in a grey-water wetland system.
Hdpe is quite cheap and should be comparable to pvc at around $5-10 per square metre.
Geo-textile underlayment
Your pond liner is one of, if not the most expensive aspect of your pond build. Protect your investment.
Even on my smallest ponds I use a geotextile underlay. It's so cheap costing $1-3 per square metre.
It's much easier than trying to put down a sand cushion.
If the ground is very rocky I would definitely use sand plus a geotextile underlay.
Geotextile underlay is resistant to fungi and acids in the soil. It also acts as a physical barrier between the liner and any future root growth from the surrounding trees and garden plants.
Its basically a very cheap insurance policy for your pond.
Some people recommend using old carpet or curtains but these will decompose overtime.
For how cheap it is do yourself a favour and use a geo-textile underlay!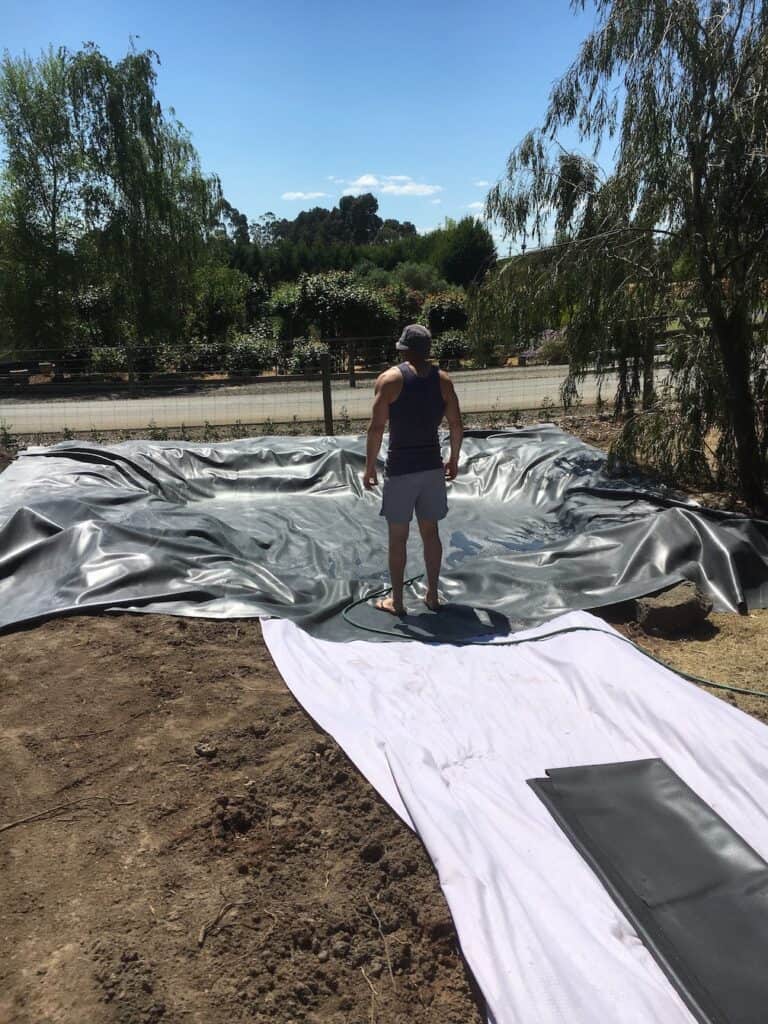 Rigid liners
Rigid liners are preformed pond shapes. They are made form fish safe uv stabilised plastics. Although some are made from fibreglass or special resins.
These liners are very tough and durable. They come in a wide range of sizes and shapes and are easy to install.
Rigid liners are great for people who are overly concerned about getting a puncture in a more flexible pond liner.
For brand new rigid liners you'll pay anywhere from $50 up to $1000. It all depends on the shape and complexity of the size.
New ones can be purchased at any major hardware chain store. But for those looking for a bargain check out auction sites like eBay.
The thing about ponds is people are always upsizing and quite often you'll pick up a second hand rigid liner really cheap!
Best suited for smaller ponds from 200-2000L.
Great for areas where punctures are a worry ie. rocky ground.
Easy to install.
The benefit of knowing the exact volume of the pond.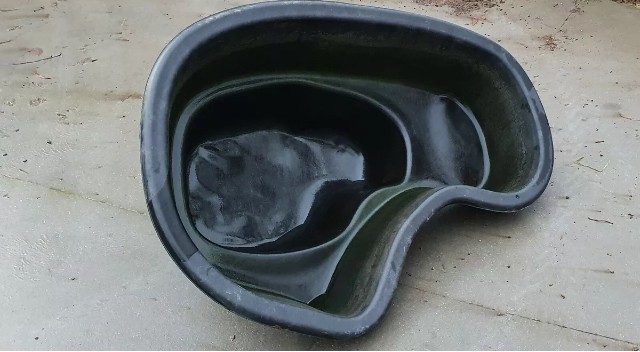 Why not concrete?
For years most pond builders used concrete to line ponds.
It was thought concrete was super strong and impenetrable. But concrete has many disadvantages when it comes to pond building.
Concrete still needs to be sealed to be water proof.
It looks man-made, takes a lot of creativity to make it look natural.
Cracks over time, causing leaks.
Very expensive.
At the end of the day you are much better off from a time and money stand point to select a liner designed specifically for pond applications.
Reduce maintenance
To help you build a maintenance free pond you might be interested in looking at some of my other articles. Specifically bog and wetland filtration for ponds.
Another good one to look at is understanding the nitrogen cycle. Once you understand how to filter the pond naturally maintenance is very, very minimal.
We are here to help people get into the pond hobby as cost effectively as possible.
Subscribe
If you haven't already be sure to subscribe to our mailing list for special discounts and offers on pond related equipment and services.