This seems to be a very contentious and confusing issue. A quick visit to some forums on the topic and you're left confused and unsure. To find out what the actual rules are i contacted kids safe Victoria and my local council.
This is part of the reply I received from both my local council and kids safe vic:
"Under the Regulations and Standard CC1, any excavation or structure capable of holding water deeper than 300mm and used primarily for activities such as swimming, paddling, wading or the like is defined as a swimming pool.
A dam, streams, rivers and ornamental ponds or fountains are not defined as swimming pools or spas."

Building Regulations 2018 (the Regulations) and Australian Standard 1926[CC1] (Standard CC1).
As the regulations state an ornamental pond or fountain is not defined as a swimming pool or spa and therefore does not require a fence.
The email i received from kids safe victoria went on to state:
"Kidsafe Victoria recommends that homeowners take measures to reduce the risk posed by bodies of water such as fish ponds; for example, installing a safety net over the top of the pond."

Kids Safe Victoria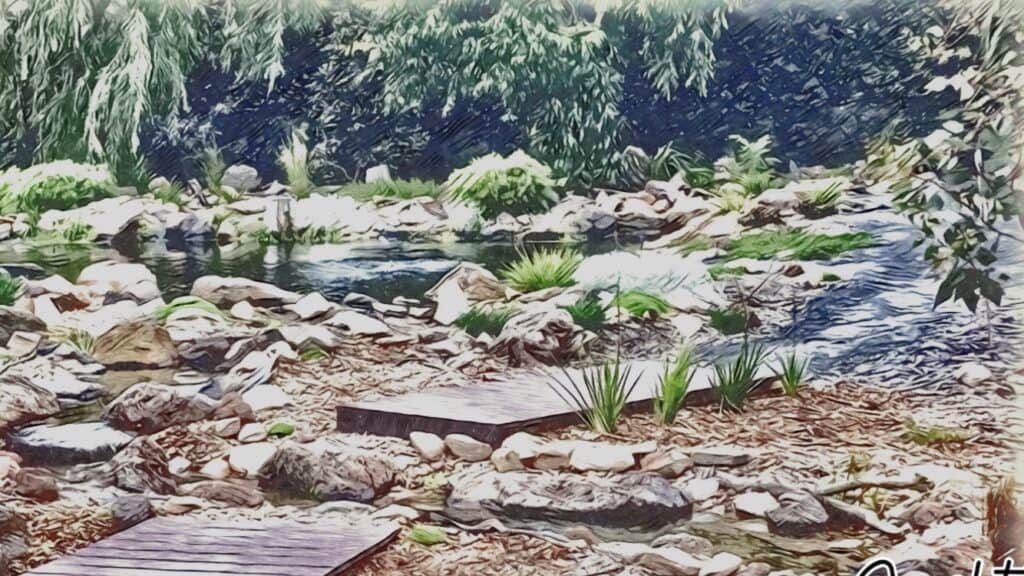 Need help designing your pond? Looking for affordable pond products?
I've assembled a list and helpful links to the products I use when building my ponds.
If you want to check it out click the button below.
You might find my ultimate guide to building a pond in Australia useful when constructing a new pond.
What about other states?
I assumed the rules are much the same given that the standard my council provided me is an Australian standard.
But i dug a little deeper just to be sure.
NSW
I did find this on NSW swimming pools register website.
"Do I need to fence (install a child- resistance barrier for) my fish pond?"

-No.

NSW swimming pools register website
If a fish pond has been designed and, manufactured to be solely used as a fish pond, then no child-resistant barrier is required.

NSW swimming pools register website
QLD
I found this on the Brisbane city council website.
"The Building Act 1975 defines a swimming pool as an excavation or structure:

Brisbane city council
capable of being filled with water to a depth of 300 millimetres or more
capable of being used for swimming, bathing, wading, paddling or other human aquatic activities
used, designed, manufactured or adapted for the purpose mentioned above, despite its current use.
This includes spas and wading pools (other than portable wading pools).
It does not include a:
fish pond
ornamental pond, manufactured to be used for ornamental purposes
dam used for aquaculture, marine research or storage of water
watercourse
spa bath situated in a bathroom which is not continually filled with water
birthing pool used solely for water births
portable wading pool.
WA
This snippet appears on the mandurah council website:
A building permit is required for all swimming pools and spas. The following structures are not considered to be a swimming pool or spa:

mandurah council
A "spa-bath" which has a drain and is intended to be emptied after each use.
A fish pond not intended for use as a swimming pool as described above.
A shallow wading pool not capable of containing water more than 300mm deep.
As its starting to become clear they are all basically referencing the same standard or similar that i received from my local council.
If you're unsure send off an email to your local council and then at least you'll have a definitive answer in writing.
What about recreation ponds?
Recreation ponds i wasn't to sure about where they fit in so i sent off an email to aquascape supplies Australia.
They sell recreation pond kits and yes i really want one!
The response was as follows.
Hi Kev,
Thank you for your enquiry.
Under the building code a Recreation Pond is classified in the same manner as a fish pond. It's a non structural natural ecosystem pond with plants and fish and does not require a pool fence.
We recommend using common sense with regards to fencing. If you are on a rural property with no young children then there would be no need to fence it.
Please let me know if we can help further.

Aquascape Supplies Australia
Water feature ideas that are child friendly
One option is like kids safe Victoria suggested to me placing a strong wire mesh across the pond.
This can be placed just below the waters surface. Theses can be expensive and unsightly
They are also a pain in the bum when carrying out pond maintenance.
A much more attractive option is eliminating the actual pond. It's very easy to create pondless water feature.
A pond area is still dugout but it becomes a reservoir. The reservoir area will house a vault area for the pump. The hole is then filled up with decorative rocks.
Check out some of these beautiful easy to create features:
Now you can enjoy the sound of running water without the drowning hazard of a pond.
But I still love my ponds with fish. Just always be safe and watch little ones around any water!
Hope this article has been helpful.
If you haven't already subscribe to our mailing list for special offers and discounts on pond related products.